Hi peeps! I am TRYING to blog more often than I have been. I'm not really sure why, but I think that I like to blog. Actually, I think that I like to upload pictures. Boy, I have come a long way! You know what I think it is? I think that I think(?) that if I blog more, I will get more followers. I don't even know why I want followers! I think that I am becoming a power hungry blogger.
Anywho, I decided to show you a few pictures that I have in my "cottage" file. These are mainly structural ideas. I will follow later with some decor ideas.
First the exterior. The exterior of the house is brick and although it is dated, it is in great shape. I love these two ideas for painting brick. I have always liked painted brick, and it is a hot trend right now;) Which color do you prefer? Grey or cream??
I already have the brown barn shutters for this look!
I LOVE this grey. It looks like a little New England cottage to me, and I've never even been to New England. Coooozzzyy.
The next idea is for the front door. I just love the house number on the front! I like the windows too, although I'm sure I'd be scared of my shadow at night;)
And how about a nice checkered floor? This is has been a house dream of mine for YEARS. I love the yellow/white or black/white. Either way, I'm begging Tyler.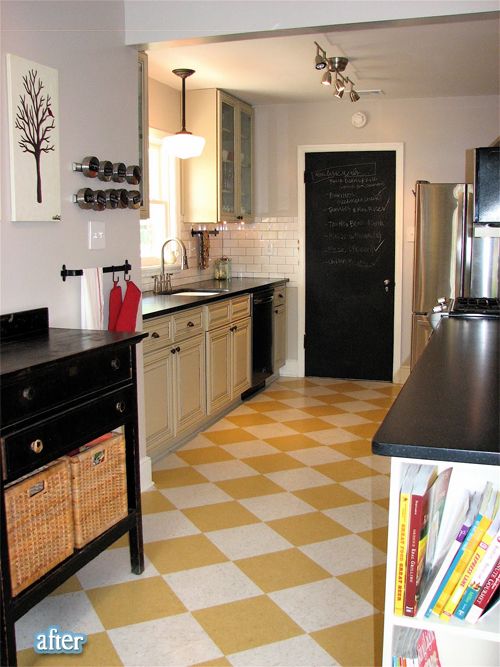 I have been debating a gray kitchen for a while. I love the crisp/ cozy feel of a gray room. It makes me feel like it's raining. These days that is all I see of rain;(((
I love this kitchen with the black cabinets on the bottom and the white cabinets on the top. With yellow checkered floors!!?? Be still my beating heart.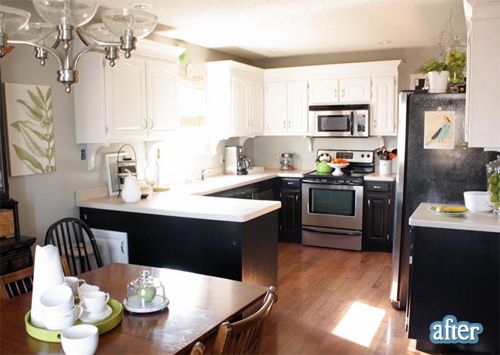 LONG STORY SHORT: The cottage was used previously for a school with handicapped children. There aren't doors on some of the door frames b/c the kids could have injured themselves. One of missing doors is in the laundry area. I think a nice sliding barn door like this one would be PERFECT for the area. Don't you just love the chalkboard walls?
Well, that's it for now. I'm sure I will find more inspiration along the way. When I do, I'll share it;)
We are currently lowering the price of our house and putting in another contingency offer. Keep praying!
Oh YEAH, FOLLOW ME!! I'll be your best friend;)